Let Arc Angel Stun technology help you achieve independence and security with a responsible self-defense tool
Description
Take responsibility for your safety. Feel free and confident walking in public. Carry the Arc Angel Stun Gun Cane™ where ever you go. Feel secure in your own home. Keep the Arc Angel Stun Cane™ near the front door or at your bedside.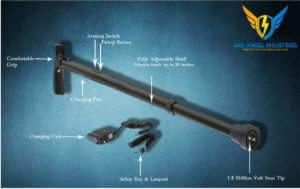 STUN CANE™ • Fully Functional Supports 250 LB. • 1,500,000 Volts Stun Device • Key and Safety Lanyard included • Home Charging Unit included • Foreign Plug Converter included • Fully Rechargeable NiMH Battery • for thousands of Flawless Charges • High Quality Military Grade Aluminum • Packaged weight: 2.5 lbs
Flat Rate Shipping in the contiguous United States    $15.95
when purchased in California Taxes are applicable.