It's been one year since Taser released the much-awaited Pulse. Since then it has become one of the best-selling products in the non-lethal self-defense industry. The feedback from our customers has been phenomenal!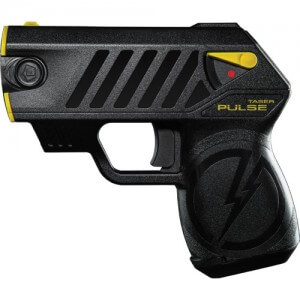 The TASER Pulse is a polymer based, subcompact, Conducted Electrical Weapon (CEW) specifically designed for on-body concealed carry. The Pulse uses the same Neuro Muscular Incapacitation technology used in the professional Taser product line. The TASER Pulse probes can reach an attacker up to 15 feet away and will incapacitate him for 30 seconds, giving you sufficient time to make a safe escape.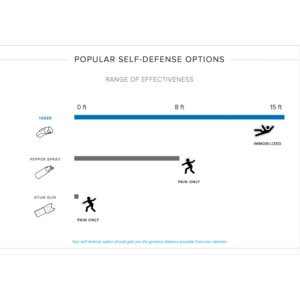 The Taser Pulse is probably the most effective non-lethal self-defense weapon available to the consumer today. Released in 2016, it is the first Taser consumer product update since 2007. It boasts not only the same technology used by police, but it fulfills what every personal safety minded civilian has been requesting:
Same high voltage as police models (50,000 volts at 7 watts)
Requires no licensing in most states (please see FAQ below)
Designed for on-body Concealed Carry
Intuitive design
High reliability
Affordability
Great looks
The Taser Pulse utilizes a subcompact design shaped exactly like a traditional semi-automatic pistol and is in fact, very reminiscent of the classic Glock 26 9mm. This is a polymer based weapon, colored mostly in black yet infused with very bright yellow along the tip of the barrel as well as the safety. This color scheme is designed to clearly identify the weapon as a Taser as opposed to a traditional real gun.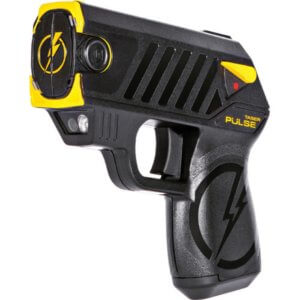 The Taser Pulse uses a lot of technology which traditional guns can only dream about. For instance, it uses LASER assisted targeting to help you aim properly. It also includes a built-in LED flashlight to help you identify friend or foe. The user replaceable battery is designed to last for approximately 50 30-second firings. The Pulse also includes a built-in battery status indicator LED.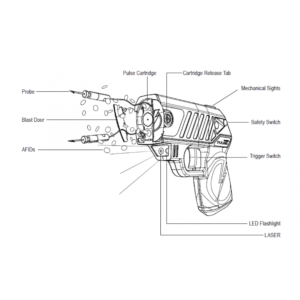 The 15-foot range keeps you safely away from any potential attacker. The idea is to shoot the attacker and then drop the Pulse on the ground, which will continue to shock the attacker. In the meantime, you make your safe escape. You also don't have to worry about losing your Taser. The Pulse is part of the Taser Safe Escape Product Replacement Program: If the TASER Pulse is used for self-defense and it is left at the scene, TASER will replace the device free of charge as long as you have filed a police report.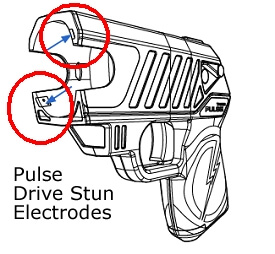 The Taser Pulse also boasts double duty as a traditional stun gun. Taser calls it "Drive Stun". The front of the Pulse has two metal electrodes, which are part of the circuit that carries current to the cartridge for probe deployment. In the event that the Pulse has been fired and has an empty cartridge, or when no cartridge is loaded, the front of the unit can create an electric arc.  When the trigger is pulled, those two electrodes provide the current necessary to turn the Pulse into a backup stun gun.
Key Features
Subcompact size designed for on-body concealed carry.
Intuitive ergonomic shape.
Shaved safeties and angled iron sights prevent snagging when withdrawing or re-holstering device.
Advanced target acquisition: LASER assisted targeting and color contrasting iron sights.
Powerful LED flashlight: Helps identify friend or foe.
User replaceable battery: Battery lasts for approximately 50 30-second firings. An illuminated battery status indicator light is built-in.
Tactile trigger and safety permits enhanced operation in dark environments.
15-foot safety range: Immobilize attackers at a safe distance.
Drive Stun: Doubles as a stun gun with no cartridge or spent cartridge.
Safe Escape Product Replacement Program: If the TASER Pulse is used for self-defense and it is left at the scene, TASER will replace the device free of charge.
What's in the Package
TASER Pulse
Replaceable lithium battery
2 live cartridges
Conductive target
Protective soft cover
Quick start guide
Dimensions:
Length: 5.25″
Height: 4.75″
Width: 1.25″
Weight: 0.5lbs (227g)
PULSE FAQ

Do I need to do a background check?
Background checks are only required for residents of:
Minnesota
Maryland
Illinois
What kind of cartridges does the Pulse take?
The Pulse, Bolt and C2 use the same cartridge and it only comes in 15-foot range.
How much do replacement cartridges cost?
A training cartridge 2-pack is $59.95, and a live cartridge 2-pack is $79.95. See all our Pulse accessories here.
Is the Pulse battery rechargeable?
No, the Pulse battery cannot be recharged. According to Taser, it has a shelf life (unused) of two years. If used it is good for fifty 30 second shots. Once depleted, the battery must be replaced.
Does the Pulse come with a target?
Absolutely! The Pulse comes with a conductive target that will light up when hit. We recommend placing the target on a board or thick foam core while practicing.